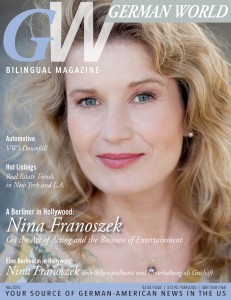 Nina Franoszek: A Berliner in Hollywood

By Petra Schürmann
The characters that she plays could not be more diverse – no matter if she portrays the psychologist Ute Dannowski in the award-winning German series "The Weissensee Saga," plays Swedish Greta in "Mad Men" or moves to virtual reality as Frau Engel in the controversial video game "Wolfenstein – The New Order," Nina Franoszek is always authentic and very convincing.
The Berlin native, who was awarded the Grimme Prize (Germany's Emmy Award) in 1998 for "Sardsch" has worked for more than 20 years in German theater, TV and film productions, and even built a career as actor, producer, director and coach in the U.S. She commutes regularly between her homes in Berlin and Los Angeles.
She teaches the MFA Film Acting Program for directors at the New York Film Academy in Los Angeles since 2 years. Additionally she developed her own exclusive career-seminar for German actors, who want to work in Hollywood. Her clients include among others Heidi Klum, who hired her as "Hollywood Acting Coach for "Germany's Next Top Model".
So what is Nina's secret to having such a long active career in the international film industry? What are the main differences between working in the U.S vs. Germany? How does she deal with the competition?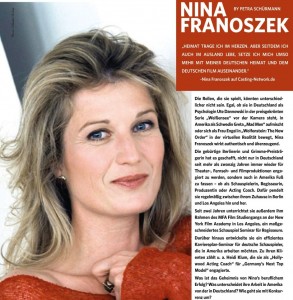 "Actually, there is no such thing as competition for actors," says Nina as we chat in Los Angeles, California. "It's all about the right chemistry. My advice to young actors? Be as unique as you are, and then let those find you who are searching exactly for your uniqueness."
It sounds simple but according to Nina, it is a continuing process to keep developing your unique personality, to have a clear idea of your strengths and to know how you are perceived as an actor by the audience. The key element to success is constant, diligent work. Before going to an audition, she recommends doing background research on the project, the production and the casting director in order to see how your personality matches what the producers are looking for.
"Film professionals need to be in tune with the current zeitgeist and strive at evolving constantly as an artist in order to have a chance," Nina adds.
She recommends that actors always stay up on current trends in politics and other news, and always observe what's going on in society. For example: Should Hillary Clinton become president, more roles will pop up for self-confident women over 50, according to Nina.
This and much more are the topics of her six-week training seminars for German actors, who aspire an international career. According to Nina, the key is to have a realistic idea about one's own value for the American film industry. "In Germany, acting is considered a higher form of art, which is supported and often subsidized by the government. In America, acting is a form of entertainment, which is a business. There is a reason why we talk about the entertainment business in the U.S. and the "Schauspielkunst" – the art of acting – in Europe."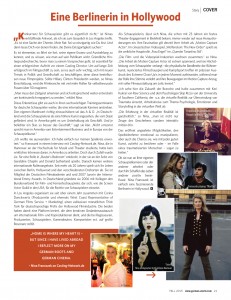 "I never intended to emigrate," she explains, "I simply broadened my horizons."
Franoszek, who received her MFA from the University of Music, Drama and Media Hanover had no interest in working in the U.S. However, she happened to ride her bicycle in Berlin and the line producer of "Buster's Bedroom" drove by and invited her to audition for the movie and shortly after she was cast to play alongside Geraldine Chaplin and Donald Sutherland. Other projects, mainly German-American co-productions, followed. For more than 20 years, Nina's life has been a constant commute between Berlin, Hollywood and worldwide film locations. In 2006, she co-founded the Federal Association for TV and Film Actors in Germany, which just like SAG-AFTRA in America, fights for more rights for actors. She is a member of the German Film Academy and serves as a juror at the International Emmy Awards since 2007.
For over a year now she organizes an exclusive monthly Think Tank for German speaking Film Professionals in Hollywood together with Corina Danckwerts (Film producer and former West Coast Representative of German Films Service + Marketing)
They provide a forum for creative exchange of ideas that serve international film- and co-productions and that has become a productive get together for LA based producers, directors, actors, DP's, composers etc.
Nina is constantly looking for new professional challenges. Currently, she is totally fascinated by working as a motion-capture actor, creating incredibly realistic digitally enhanced performances, as digital animation grows more advanced each year.
She stars as one of the main antagonists "Frau Engel" in the "Inglourious Basterds-esk" cinematic video game "Wolfenstein: The New Order".
"The film and video game industries are merging," Nina observes. "The work of a motion-capture actor is absolutlely thrilling, as it demands parallel top perfomances in all disciplines- full physical range of stage performing skills, nuanced film acting and martial arts expertise and the precision in thought and facial expressions of an extreme close-up shot in every moment, while voicing the character and performing the movements in full motion-capture garb."
" I see the future here and participate in panels about psychology, emotions and new ways of storytelling in the Virtuell World together with Keri Kukrai from Raw Science and Psycholgist "Skip" Rizzo from USC, who among many other achievements uses virtual reality-based exposure therapy to treat veterans and others who suffer from post-traumatic stress disorders.
The enhanced virtual reality experience is a holistic one. You are not a witness anymore but interactive in the middle of the event. By letting a person enter the virtual reality, unknown possibilities are opened up, you can manipulate their emotions or touch their souls like any good art does, or even in case of trauma support their healing process. It's up to us. Let's make the best of it."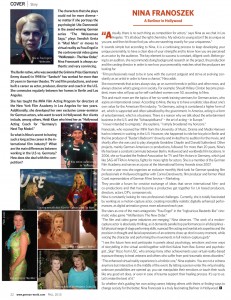 So whether she's guiding her own acting career, helping others with theirs or finding ways to change society for the better, Nina Franoszek is a truly fascinating Berliner in Hollywood.
Comments